We Finance the Toys of Winter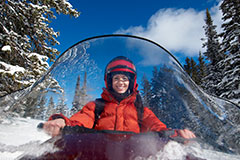 …and we refinance the toys of summer!
Wherever winter fun takes you, we can help you get there and play there with rates starting at just 3.99% APR* for ATVs, snowmobiles, and other "toys of winter."
What about the toys of summer such as boats and RVs? If you have a loan at another lender, bring it to us for refinancing that can cut your monthly payment and save big on total interest!
Whether buying or refinancing, our competitive rates, extended terms, and no loan fee will save you money! To learn more or apply for a loan, just call, click, or drop in.
*Annual Percentage Rate as of 10-1-16 and subject to change. Actual rate is determined by your credit qualifications.