Don't Fall for It!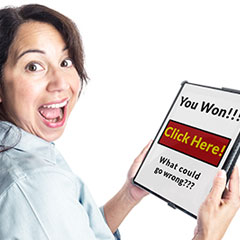 Identity thieves are using fake emails and websites to trick people into providing Social Security numbers, bank account numbers, and other personal information. This illegal practice is called "phishing" (pronounced "fishing").
Most often, phishing emails pretend to be from a bank, a retail store, or government agency. They typically use a variety of tricks, including graphics and links from a legitimate website, to make the fraudulent email look convincing.
So how can you avoid becoming a victim of a phishing scam?
Don't open an email that looks phishy, or click anything in it if it asks for personal information. It doesn't matter how real the email may look, even if it's from a friend or relative. When hackers get into a legitimate email account, they can send fraudulent email from it.
Avoid emails or websites that have typos or other obvious mistakes. They are usually fraudulent, often the work of foreign scam artists.
Remember that no financial institution, including TCU, will email you and ask you to put sensitive information such as account numbers and PINs in your response. 
Assume that a request for information from a bank where you've never opened an account is a scam.
If you want to check something out, contact the supposed source (perhaps a bank or organization) by using an email address or telephone number you know is valid.
Online scammers keep trying new things, so when in doubt, don't click!