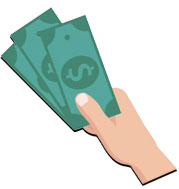 Skip a Loan Payment
Each year our members with consumer loans have the opportunity to defer a loan payment once each calendar year. Our "Skip-A-Payment" program gives participants extra cash when it's needed most!
Here's a great way to grab some extra cash!
You can defer the loan payment of your choice—excluding real estate and MasterCard payments—as long as your loan is in good standing, would not be extended beyond its maximum term, and its resulting balance would not exceed the value of the collateral that secures it.
To apply to skip a loan payment, just download the PDF below, fill it out, then attached the completed application to the email form below.