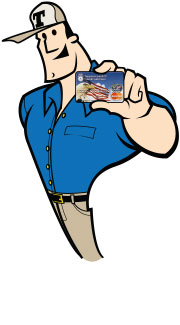 TCU MasterCard Credit Card
This is the credit card of choice for Teamsters! It has no annual fee, a 25-day grace period*, and the same low rate for both purchases and cash advances.There's no liability if your card is lost or stolen. We don't pile on fees the way most "big bank" cards do. In short, a TCU MasterCard costs nothing to carry, and it costs nothing to use if you regularly pay it off on time. If you do carry a balance, our low, non-variable rate means you will pay less. Click here to apply for a TCU MasterCard.
Fewer, Lower Fees
Not only is there no annual fee with a TCU MasterCard, there aren't many other fees, either. There's no over limit fee, no cash advance fee, and only a minimal late fee. You get the idea. Your credit union isn't paying for a reward program, and we aren't trying to make a profit on your money. Instead, you get a solid financial value with no nasty surprises.
Convenient Online Access
If you have a TCU MasterCard Credit Card you can click the Credit Card AccessPoint at the top of any page to view a current history of your transactions, pay your bill from any checking account, or view eStatements. Click here to sign up. Receive a $5 reward when you opt out of receiving paper statements for your credit card and other TCU accounts! With online access you can look up:
Current balance and availability
Most recent transactions
Transactions for the last 3 months
Payment information
Cash Advances by Phone
When you need a cash advance on your MasterCard account, simply contact us. We'll send you a check or deposit it to your TCU account. A finance charge applies from the date of the advance, but it's the same rate as for regular purchases and there's no cash advance fee.
Affordable Credit Insurance
We offer optional Credit Disability and Credit Life Insurance that makes TCU MasterCard payments for you if you are disabled or pays off the your TCU MasterCard if you meet an untimely end. Coverage is available for a nominal cost that is included in your monthly payments. It's one less financial stress for your family if the worst should happen. Opt for coverage when you apply for your card.
MasterCard SecureCode
Guard against unauthorized use of your MasterCard credit card while shopping online at participating merchants with MasterCard SecureCode. There is no need to get a new card, no software to download, no cost, and no hassles…just added security. Once enrolled in this service, you'll have added confidence knowing that an extra authentication step helps ensure that only you can shop online with your MasterCard Credit Card. Click here to sign up.
*We will not charge any interest on the portion of the purchases balance that you pay by the due date each month. There is no grace period for cash advances.