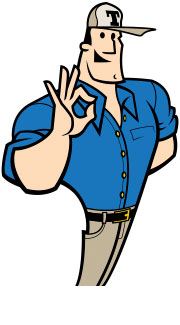 Insurance Services
We have you covered at your credit union. Our wholly owned subsidiary,
CU Insurance Agency, works with several providers to find the best coverage at the lowest cost for you (Oregon & Washington only). Their professional agents can save you money on just about any kind of insurance, and you'll like their friendly "can do" attitude. Your credit union also offers inexpensive credit life and credit disability insurance to protect your TCU loans, and a free Accidental Death & Dismemberment benefit. Not least, your funds on deposit at TCU are federally insured.
CU Insurance Agency
Providing adequate insurance to protect your family and your personal property can be a difficult task without the expert assistance of an insurance professional, and that's just what
CU Insurance Agency provides for you, your family, and your friends (even if they're not TCU members).
CU Insurance is an independent agency licensed with several insurers in Oregon and Washington. They offer all kinds of insurance, including auto, life, homeowners, renter, mobile homes, RV, boat, and commercial insurance. In addition, they can provide SR22 filings and high-risk policies.
You may think that all insurance companies charge the same rate for similar policies, but that simply isn't the case! Before renewing any policy, be sure to contact CU Insurance agents Ryan Richter or Kristin White to evaluate your insurance needs. They will then shop and price your alternatives. You might be surprised by how much you can save!
Regardless of which insurer covers you, the CU Insurance agents help you keep an eye on costs and alternatives as you move through life. Learn more at cuinsuranceagency.com or contact Ryan Richter or Kristin White directly at 503-251-2398 or 1-800-547-7657.
Loan Protection
What happens to your TCU loans if something happens to you? A great way to make sure your family isn't stuck with unpaid loans is to opt for inexpensive Credit Life and Credit Disability insurance right on the loan application. That way your loan payments are made while you are disabled, or the loan is paid off in the event of death. (Some restrictions apply. Contact us for details.)
Free $3,500 AD&D Benefit
TCU members age 18 and up are now automatically covered by an Accidental Death and Dismemberment Benefit of $3,500. This supplemental insurance is being provided through American Income Life Insurance Company, a union company. To name your beneficiary, click here for the submission form.
Deposit Insurance
Not one penny of insured savings has ever been lost by a member of a federally insured credit union. Your funds on deposit at TCU are federally insured to $250,000 by the National Credit Union Administration (NCUA). Individual Retirement Accounts (IRAs) are separately insured by the NCUA to $250,000. If you are married or have joint owners on your accounts, your effective coverage can be higher. Contact us for details.