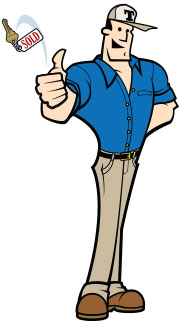 Mortgage & Home Equity Loans
Whether you are buying a home or needing to use the equity in your home to finance big expenses in your life, TCU is a great place to start. Our purpose is to help our fellow Teamsters—the credit union's owners—achieve financial success and security. Look to us for the answers you need. You'll find our rates are competitive and we keep fees to a minimum, plus you'll always get our famous credit union service! Click here to review loan rates, terms and fees.
First Mortgages
Buying a home is the biggest financial decision most people make in their lifetime. It can be a mystifying, stressful process that leaves you doubting whether you're getting a good deal. Or you can get the financing you need and peace of mind through our home loan referral program with Consolidated FCU. They offer all types of home loans, including low or no down payment, FHA, and 1st-time buyers.
Home Equity Loans
Tap into the equity you already have in your home—up to 80% of it—and use it to finance just about anything you need: home improvement, college, debt consolidation, big vacation, new vehicle, whatever. Compared with consumer loans, a home equity loan offers a lower rate, higher loan amount, and smaller payment (with longer terms). Get a lump sum of cash at a competitive rate and minimal fees from TCU! Contact us for more information or to apply.
Home Equity Line of Credit
Instead of a fixed rate Home Equity Loan (above), you may prefer tapping into a variable rate Home Equity Line of Credit (HELOC). That way you only borrow as much as you need, when you need it. As you repay what you borrow, your credit line replenishes. Similar to a fixed rate Home Equity loan, the HELOC rate is lower than with many other kinds of loans, and you can borrow larger amounts. Also, the interest is usually tax deductible (check with your tax advisor). Contact us for more information or to apply.
Unimproved Property Loans
Look to your credit union for financing of unimproved property. Whatever your real estate need, be sure to check with us.
Avoiding Foreclosure
If you or someone you know is struggling to keep up with mortgage payments, we are ready to help. New federal programs may allow you to refinance at a lower rate, even if you're "underwater", or take steps to modify your current loan, arrange a "short sale", or other ways to avoid foreclosure. Click here for more information, but be sure to talk to us as information is changing and we can help you find the best way forward.