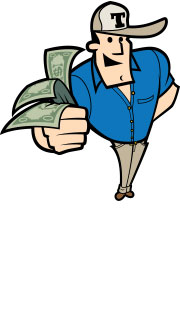 Other TCU Loans
If you need some quick cash, check out our Signature Loan and Line of Credit, as well as loans secured by your savings (shares), Certificates, or severance. As always, our rates are very attractive and there's never a loan fee for consumer loans. After all, as your not-for-profit credit union, our only job is to give you the best deal we can. Talk to us about what you need. We approve 4 out of 5 loan applications!
Signature Loan & Line of Credit
Your good credit entitles you to a good loan. With a Line of Credit you can advance yourself the funds you need, as you need them, at a low variable rate that beats using bank cards or store accounts. The alternative is a Signature Loan which gives you a lump sum of cash at a low fixed rate and a set number of payments. The maximum loan is $10,000. It's up to you how to use it! Click here to apply.
Share Secured, Certificate Secured & Severance Secured Loans
Another low cost source of cash is a loan secured by your savings (shares), Certificates, or severance. See our loan rates. For more information, please contact us.
Affordable Credit Insurance to Protect Your Family
As your financial partner, we also want to protect the investment you make in a credit union loan. We offer optional Credit Disability and Credit Life Insurance that makes loan payments for you if you are disabled or pays off the loan if you meet an untimely demise. Coverage is available for a nominal cost that can be included in your monthly payments. It's one less financial stress for your family if the worst should happen. Opt for coverage on the loan application.
Skip-a-Payment Program
Each year our members with consumer loans have the opportunity to defer a loan payment during the holiday season. Our "Skip-A-Payment" program gives participants extra cash at the time of year when it's needed most.
Click here for the Skip-a-Payment request form.
Teamster Strike Policy
Look to your credit union for help in the event of a Teamsters strike or lock-out. We have the most liberal loan extension policy in the nation, up to six months for all but real estate loans (and we'll even modify those, when feasible).