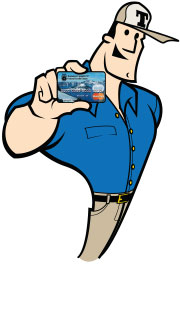 Checking Accounts
Why pay a bank for a checking account when you can get it for free from your credit union? Both our Free Checking and High Yield Money Market accounts are free, and they come with all the services and conveniences you expect with a checking account—including a free TCU Debit Card, surcharge-free ATMs at every US Bank branch, Mobile Banking for today's smart phones and tablets, plus much more. TCU is also a very secure place to do your banking. Your funds on deposit with us are federally insured to at least $250,000 by the NCUA.
Free Checking
Do you have a "free" checking account that turned out to be anything but free? Switch to Free Checking at TCU, and you'll quickly see that it's accurately named. It's full featured, as well. Here's what you get for nothing per month:
No monthly service fee. No minimum balance requirement. No "per check" or "item" charges. And no strings attached. We also keep other fees to a minimum, either none or low cost.
TCU Debit Card with free access to ATMs at all US Bank branches. See more information below.
Automatic overdraft protection (via your TCU savings account). Also see Overdraft TeamPay below.
TeamNet Online Banking, Mobile Banking, TCU Deposit, and Online Bill Pay. Click here to learn more. Click here to sign up.
TeamLine Phone Teller, our 24/7 audio response system that lets you bank by phone in either English or Spanish.
Direct Deposit (if your employer offers it) and Payroll Deduction to automatically deposit some or all of your paycheck to your TCU account.
Automatic Transaction Plan, our ACH service that lets you move money between your TCU account and other financial institutions. It's a good alternative for depositing your paycheck, if Direct Deposit is not available to you.
eStatements to access your monthly statements quickly and securely online, while saving on paper and delivery emissions. If you already have a TCU checking account and online banking access, login to online banking to sign up for eStatements.
You can make deposits at US Bank ATM's, other ATM locations in the Moneypass Network also offer these services to TCU members. Find them at moneypass.com. All deposits are subject to a 5-day hold. Please contact us if you need your funds sooner.
Contact us for more information or to request a Free Checking account. Or simply drop by any TCU office to open your account.
High Yield Money Market
Our High Yield Money Market account works just like interest paying checking, but it pays a better rate–and it's free! It includes all of the free services that come with Free Checking (see above). The minimum balance is $1,000, and higher rates are paid on higher balances. Click here for our current savings rates.
Contact us for more information or to request a High Yield Money Market account. Or simply drop by any TCU office to open your account.
TCU Debit Card
A TCU Debit Card comes with Free Checking and our High Yield Money Market.* Use it to make purchases anywhere MasterCard is accepted. At POS (Point of Sale) terminals at supermarkets, gas stations, and many other stores, where you enter a PIN (instead of sign a receipt), you can get cash in addition to making your purchase. That way you can skip going to an ATM or paying an ATM fee! When you do need an ATM, just about any of them will do. Withdrawals are 75¢ each and there's no surcharge at MoneyPass ATM's nationwide, including ATMs at all US Bank branches. To find locations near you, visit MoneyPass.com
*Debit card subject to credit qualifications.
TCU Deposit
Make check deposits directly to your Free Checking or High Yield Money Market account using your iPhone or Android smart phone. The TCU Deposit app lets you skip going to the credit union or finding a deposit-taking ATM. Click here for more information.
CardValet for TCU Debit Cards
CardValet is a free app for your Apple or Android smartphone that lets you turn your TCU debit card on and off, set spending limits, and monitor and receive alerts on transactions by category.
(Parents of kids with a TCU debit card will love CardValet for the same reasons!)
You can turn your debit card "off" immediately if you suspect fraudulent activity or simply want 
to deactivate it. When your card is "off," no withdrawals or purchases will be approved.
Establish transaction controls for dollar amount limits, geographic location, and merchant categories (gas, groceries, retail stores, travel, etc.).
Receive alerts when your card is card is used, when a transaction is approved and exceeds any restrictions that you set, or when a card transaction has been attempted but is declined.
Check your account balance, review recent card transactions, and locate ATMs.
Download CardValet from the Apple App Store or Google Play Store.
Overdraft TeamPay
What if you could write checks for up to $500 more than you have in your checking account? It would be like helping yourself to a small loan or payday advance, wouldn't it? Well, Overdraft TeamPay is a new service that lets you do just that, and it's now available for every TCU checking account! Here's how it works:
You may overdraw your TCU checking account by up to $500 including the overdraft fee(s).
You must bring your account current within 30 days, or your account will be closed.
The fee is $30 for each overdraft. This NSF (non-sufficient funds) fee applies whether we can cover the overdraft or not.
For technical reasons, you won't be able to overdraw your account at an ATM, and you may or may not be able to do so via a debit transaction. Other restrictions apply. Contact us for details.
MasterCard SecureCode
Guard against unauthorized use of your TCU Debit Card while shopping online at participating merchants with MasterCard SecureCode. There is no need to get a new card, no software to download, no cost, and no hassles…just added security. Once enrolled in this service, you'll have added confidence knowing that an extra authentication step helps ensure that only you can shop online with your TCU Debit Card. Click here to sign up.